Principal's Message
Today, the role of a college is not only to pursue academic excellence but also to motivate and empower its students to be lifelong learners, critical thinkers, and productive members of an ever-changing global society, where they are encouraged to channelize their potential in the pursuit of excellence. The college is relentlessly striving to perceive and maintain academic excellence at the same time encourages the students to participate in various co-curricular activities. It is Education that determines the level of prosperity, welfare and security of the people .Discipline and hard work is the key to success. To be successful in life, have ambitions and define your goals clearly.
Shree Halari Visa Oswal College of Commerce was established in the year 2009 under the strong visionary leadership of Education committee of trust. The trust has always stood for quality and excellence in the society. The trust runs a degree College, a junior college and English medium school. The vision of the Institute is to be one of the best and most preferable college in Bhiwandi and neighbouring region.
We feel proud to provide quality education by equipping our students with skills, confidence and a positive approach with an all round development. . I urge students to be regular in classes. I am happy that teachers are aware that learning to adopt better delivery mode by equipping themselves with right skills will lead to all-round development. I wish all teachers and students to work in synergy for growth and development of college. I am fortunate to have an experienced and committed team, which has brought the college to its present stature. I intend to build on this strong foundation and raise the standards in all spheres. My aim is to provide able administration and remain accessible as a friend, philosopher and guide to all student's and staff, on whom they count on and trust at all times.
The minds of students are like marble that needs to be chiselled finely for their latent talents and abilities to emerge and for their personalities to be developed to the fullest. Each one has the capability and inclination to rise out of mediocrity and do something worthwhile in this world. Research shows that only 16% of the people set goals and work towards achieving them. When we set goals and think that nothing is impossible, we look like heroes. Therefore human mind needs a replacement of ideas; filing it with hope aspirations.
Achievement begins with belief. Belief gives rise to thoughts. Right thoughts lead to right action. In this fast growing competitive era, one needs to remain alert, nimble-footed and execute his / her strategy timely and effectively. I am confident that with inherent strength and support of the stakeholders, every student will meet challenges and tough new frontiers of growth and "I Can Lead". By asking, "What I have done for the institute?", rather than "What the institute has done for me?". Most important is that we as educators need to plough our energy for productive thinking, constructive working and life-long learning.
With excellence as the benchmark, the college management is determined to lead the institution on the progressive path, by providing on infrastructural facilities & service support of parents & other stake holders to reach pinnacle of glory. I express my heartfelt thanks to all for the whole-hearted support and co-operation.
As it is said by Thomas Paine "The mind once enlightened cannot again become dark' and therefore it should be adopted mentally that education is not preparation for life, education is life itself.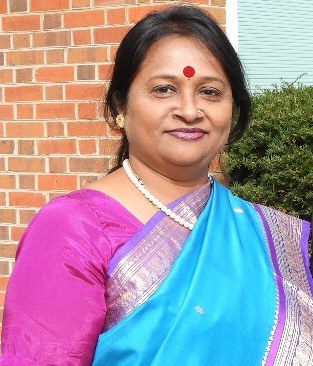 Dr. Mrs. Snehal S. Donde
M.Sc, (Zoology). Ph.D. (Zoology) P.G.D.E.M, MBA (HR), M.E.M, Ph.D (Management)
Principal
Download Resume