Chairman's Message
Youth is a power that every country has and it needs to be shaped properly to contribute towards the growth of a nation and for this , COLLEGE is a best HUB . Shree Halari Visa Oswal College of commerce was started in the year 2009.The aim behind starting a degree college was as per demand from parents and as well as need felt to provide higher education in this area. Our college has a good reputation because of standard of excellence in academics and commitment to quality of education.
Overall development of the individual is the goal of education and we all have to ensure that there is no stone left unturned to equip the students of today for the challenges of life.
The college has a highly qualified, committed Principal and teaching faculties who facilitate the students to keep abreast with academic challenges and developments. Our teaching-learning methods encourage inter-disciplinary approaches through innovation projects, conferences, seminar and workshops.
The college has institutionalized ways to encourage students involvement in social and other activities by constituting various committees. The college encourages its students to participate in the activities like NSS,DLLE, cultural club,students council,etc, for holistic development of individual personality. I wish all the staff members and students very best in their lives. We management, pledge to support them in all their endeavors.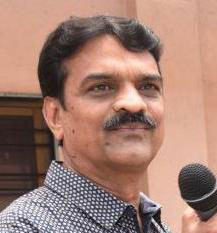 Shri. Chandrakant V. Nagaria
Chairman